TWO JS INDUSTRIES was founded with the belief that "The Pursuit Of Excellence Has No Finish." The owner, Dave, has been in the commercial/industrial painting industry for 4 decades working with many painters in the Midwest, and is well known and respected in the industry. Since he advanced from being a crew member to foreman to the president of his own company, he has gone through all the steps of growth and understanding of what it takes to create a prestigious commercial / industrial coating company. With four decades of coating experience, Dave created TWO JS INDUSTRIES to provide companies with more than just a price and a job well done. At TWO JS, we strive to be more than just a one and done project. With 80% of our business being repeat cliental, we understand how much this means not to only us but also our customers. We continuously are able to build the trust and relationship with our clients to complete project after project. 
Keeping his love of painting in his blood, Dave has grown the company with the help of his two sons. They both started out washing buckets and cleaning the shop and have now grown to be active members of the company. His eldest son; Brandon, grew up with a devotion for the trade. Since he could remember, he aspired to be the molding of TWO JS that he has become. Brandon is the foreman of the company and is present on site at each and every job. Brandon prides himself on providing each job with precise attention to detail to ensure every step of the job is completed with utmost perfection. Dave's second son, Jake, has grown up to take on the sales management at TWO JS. Jake enjoys meeting prospective customers and making more than just your typical business relationship. Jake goes above and beyond to make sure our customers receive a competitive price and the exact products and services they desire. Jake's knowledge of the products and services that we provide set us apart from the competition.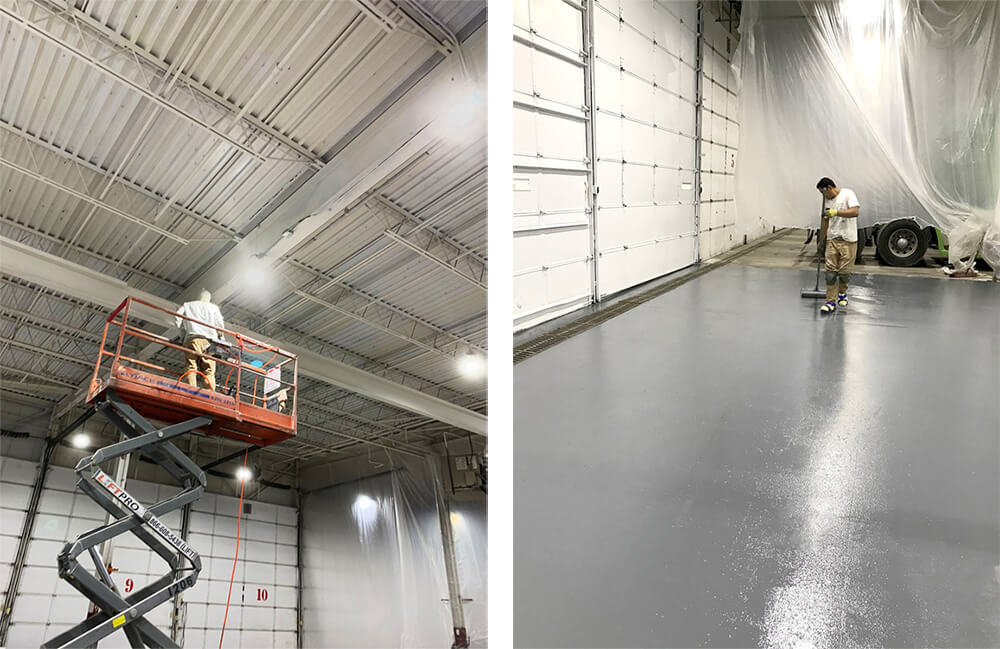 With 4 decades of experience, we've been able to structure ourselves as the best at what we do. TWO JS INDUSTRIES has the ability, resources, and knowledge to complete any coating project in the commercial / industrial industry. Some of our areas of expertise include apartment balconies, the automotive industry, pre-cast buildings, chemical plants, rock quarries, and asphalt plants. We also specialize in epoxy flooring and have the ability to coat both interior and exterior flooring as well as high traffic areas and floors with caustic chemical usage. We look forward to adding your project to our list of experience. 
We promise our jobs are priced competitively, honestly, and accurately. Jobs are completed to the highest standard of quality and on time. TWO JS creates a personalized experience for each individual project. All jobs are completed with hands on care and personal attention to detail to guarantee our clients 100% satisfaction upon completion. 
p.o. Box 413, Algonquin, IL 60102